LET'S TALK ABOUT COACHES...
Why do we need them?! Ask yourself:
Is there an area in my life I struggle to achieve?
Is there an area in my life I wish there was an "easy" button to help me reach my goals?
Oftentimes, the place we seek an "easy' button is the area we need a coach in to help us take the necessary steps!
Coaching offers you...
Accountability without shame (With the right coach)

Unbiased insight

Shared resources to gain the tools you may need

Increased self-confidence while being humble in personal development

Celebration of your successes

Focus... Keeps your eye on the goal, not the distractions.

Expands your belief of what is possible

Allows you to know you are NOT alone!
This month ask yourself, "Is it time to get a coach??"
Take back your physical health, mental health, business growth and your life with HELP! 💥
You are worth it!!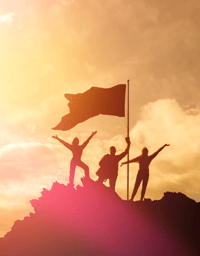 MAYBE YOU AREN'T READY FOR A ONE-ON-ONE COACH... CAPTAIN'S CLUB MIGHT BE FOR YOU!
Captain's Club is a community of like-minded achievers like yourself. We gather once a month and cover topics that YOU pick. Each month is ended with Q&A time for ANYTHING you are struggling with.
Athena Captain
Athena Captain is Director of Sales and Marketing at Turner & Son Homes, where her passion is building a referral-based company in a niche market. She has helped create a business model that allows Turner & Son Homes to become the "concierge" of building on land in Oklahoma. Athena has successfully led sales teams within retail, banking, and finally bringing her talent to bear in the construction industry. Athena has developed a prospecting system while at Turner & Son Homes that allows any sales professional to become a referral magnet. She will share her system in her upcoming book The Making of a Rainmaker, soon to be released nationwide. With the launch of AthenaCaptain.com, she hopes to help other sales professionals, business owners, and companies apply her proven systems to increase revenue through referrals. She was honored to be a finalist for Edmond Woman of the Year in 2014. She is active within her community as a Board member for Oklahoma Family Network, and she is on the Leadership team of Savannah Station Equine Therapy Program.
1 minute read