Athena's Prospecting Secrets, Newsletter
WE ARE SO HAPPY THAT YOU ARE HERE!
I have to get real with you... I have been over promising without having all the knowledge or tools I need to deliver.
I'm sure this doesn't come as a surprise, but the journey has been harder than I planned or expected! Has anyone else ever felt like that?! The good news is, with the help of talented people I finally got my act together.
I want to start by creating this newsletter with helpful tips, updates of the "finally going to happen events" like yes... the BOOK, podcasts, hundreds of new blogs and subscriptions available for my classes online PLUS so much more. We cannot wait to share all of the details with you!
For my Oklahoma realtors, click here to register for upcoming CE classes that I will be teaching sponsored by OKCMAR.
Click here to join my Prospecting Secrets Facebook page where you will be able to connect with other achievers just like yourself!
My heart has always been to serve you, so please reach out if there is an area that I can serve you better in. I am always open to feedback and suggestions.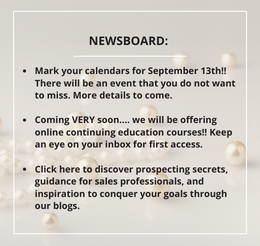 Looking forward to seeing you in class soon!
Athena Captain
Athena Captain is Director of Sales and Marketing at Turner & Son Homes, where her passion is building a referral-based company in a niche market. She has helped create a business model that allows Turner & Son Homes to become the "concierge" of building on land in Oklahoma. Athena has successfully led sales teams within retail, banking, and finally bringing her talent to bear in the construction industry. Athena has developed a prospecting system while at Turner & Son Homes that allows any sales professional to become a referral magnet. She will share her system in her upcoming book The Making of a Rainmaker, soon to be released nationwide. With the launch of AthenaCaptain.com, she hopes to help other sales professionals, business owners, and companies apply her proven systems to increase revenue through referrals. She was honored to be a finalist for Edmond Woman of the Year in 2014. She is active within her community as a Board member for Oklahoma Family Network, and she is on the Leadership team of Savannah Station Equine Therapy Program.
1 minute read