Athena's Prospecting Secrets, Newsletter
WE ARE SO HAPPY THAT YOU ARE HERE!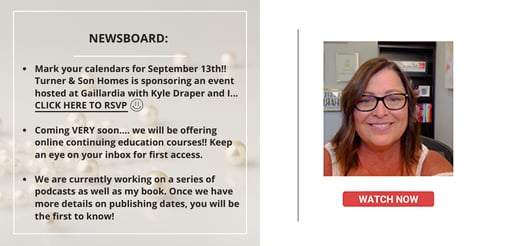 Do you need some HOPE? Whether it be the world, the market, your personal experiences, etc., everyone needs a little hope these days.
Did you know that we HAVE to have hope/faith in both our personal and professional lives for our minds to continue to drive us toward our goals?! So, how do we get hope??
Here is what I have learned on my journey: We can pull hope from our spiritual beliefs and by the systems we create. That's right... Systems help create HOPE for us!! HOW you say… Systems give you a proven roadmap to turn your dreams into reality. We need selling systems, fundamental business systems, tracking systems and follow up systems ETC. The list goes on and on…
Truths:
Many creative entrepreneurs resent the idea of systems with the feeling that they squash their capacity to innovate. Let's reframe that, shall we? Systems actually give you MORE ability to innovate. Systems free up your time, giving you the additional mental space you need to find creative solutions.

Systems are a business owner's best friend. You will never go back once you adopt a systems approach to your business. It will allow you to control your process.

Systems give you the ability to scale your business. If you want to grow, you need systems. If you don't have systems and try to create them mid-growth-spurt, you (and your team) will be miserable. I speak from experience... I promise, it's the opposite of a good time.

The big advantage to developing a systems mindset is that you can identify where current systems are broken. Knowing what is broken is half the battle! Once you know what is broken, you can look for solutions to optimize the system.
To Summarize:
Creating Systems Is More Important Than Establishing Goals….
The systems give you HOPE, direction, clarity, and a map to your goals.
This year, we are going to explore the systems I have created that I believe are (and have proven to be) essential for your success and growth.
SIDE NOTE:
Let us know what you would like to see in the newsletter - we are here for you!!
Athena Captain
Athena Captain is Director of Sales and Marketing at Turner & Son Homes, where her passion is building a referral-based company in a niche market. She has helped create a business model that allows Turner & Son Homes to become the "concierge" of building on land in Oklahoma. Athena has successfully led sales teams within retail, banking, and finally bringing her talent to bear in the construction industry. Athena has developed a prospecting system while at Turner & Son Homes that allows any sales professional to become a referral magnet. She will share her system in her upcoming book The Making of a Rainmaker, soon to be released nationwide. With the launch of AthenaCaptain.com, she hopes to help other sales professionals, business owners, and companies apply her proven systems to increase revenue through referrals. She was honored to be a finalist for Edmond Woman of the Year in 2014. She is active within her community as a Board member for Oklahoma Family Network, and she is on the Leadership team of Savannah Station Equine Therapy Program.
1 minute read